Balaia Bowls Club News and Events 2023
News and events of the Balaia Bowls Club during 2023
The Bowls Algarve Summer League began on Thursday 4th May. Our fixtures and results here.
---
Bowls Algarve Summer League Cup 2023 Week 4
The club was pleased to host week 4 of the Bowls Algarve Summer League Cup on Thursday 26th May. A total of forty-eight bowlers representing eight teams enjoyed some very favourable conditions through the day. Best news of all was that Balaia won their match against Pedras Panthers 36 - 23, three sets to one with the one set lost being by a single point. Some pictures from the day, click or tap to see a larger size.
REPAIRS TO THE GREEN SURROUND

Members of the Committee have undertaken urgent and necessary repairs to the green surrounds. Members and visitors have commented on how much better things look. These are temporary repairs only. We are urging our landlords to make permanent repairs before the touring side visits and winter competitions get under way.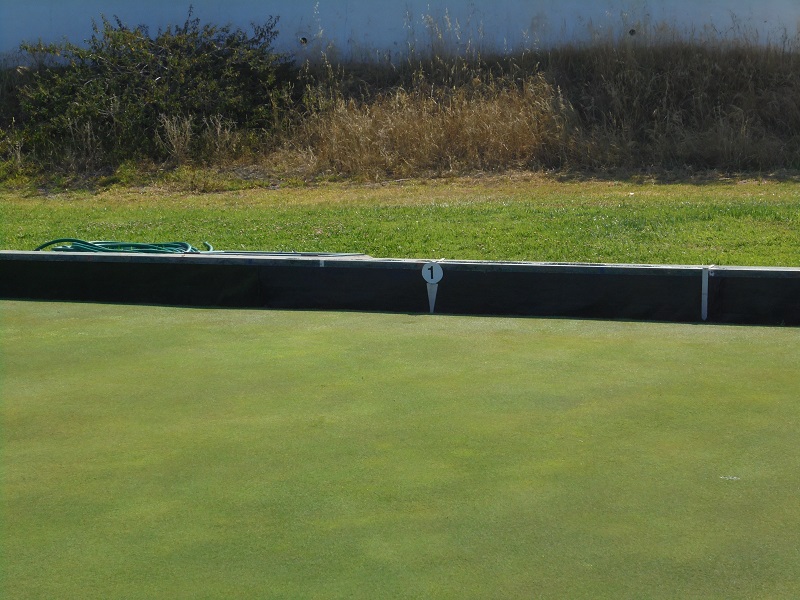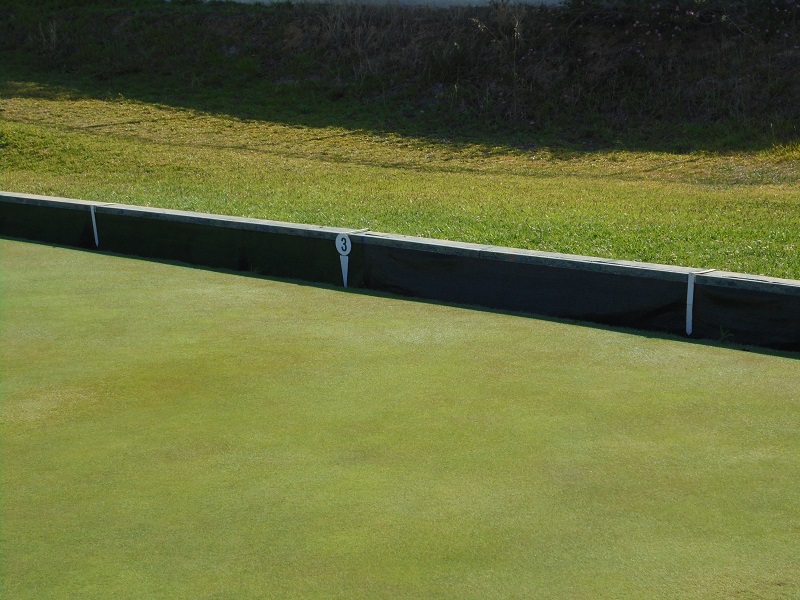 ---
TOURING SIDE VISITS APRIL 2023


Four rinks were played, Camberley winning by 3 -1 by rinks and 72 - 53 by shots on a hot afternoon. Click the picture to see in a larger size.




Two matches were played. In the morning, Bognor won by two rinks to one, 53 - 46 on shots.

The afternoon game was across four rinks, Bognor winning all four and by a margin of 77 - 50.

Click the picture to see it large size



Balaia v Gosport was won by Balaia but I did not note down the score!


Click a picture to see it in a larger size.



---
Our winning pair in the Bowls Algarve Open Pairs 2022 - 2023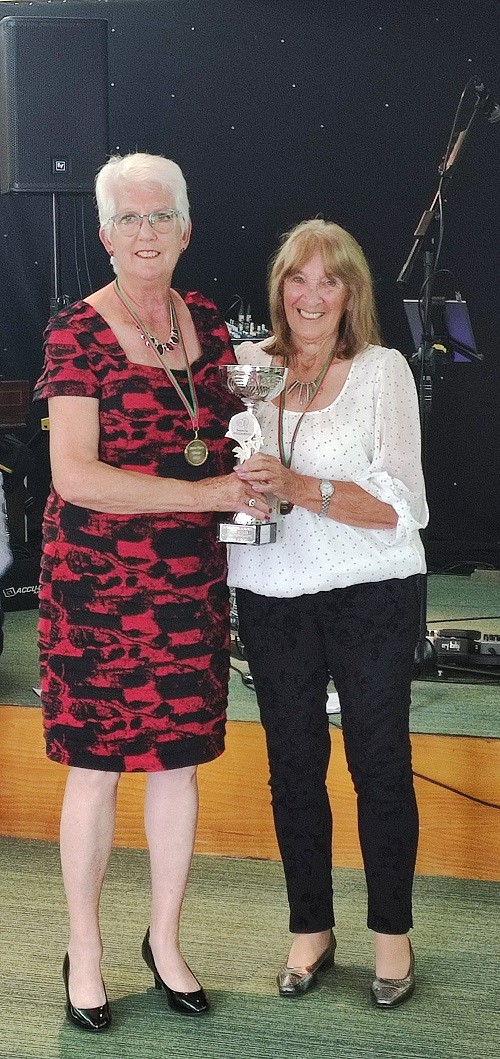 Frances Reynolds and Jill Dunkey. Click or tap the picture for the full size version.
Picture taken at the official presentation 26th March. Congratulations to both for out first win in many years.

---
Friendly match Balaia v Cotswold BC Monday 20th March

Result four rinks played Balaia 68 - 60 Cotswold
---
Balaia Bowls Club v Pedras Panthers Saturday 18th March. The final game of the Bowls Algarve Winter League 2022 - 2023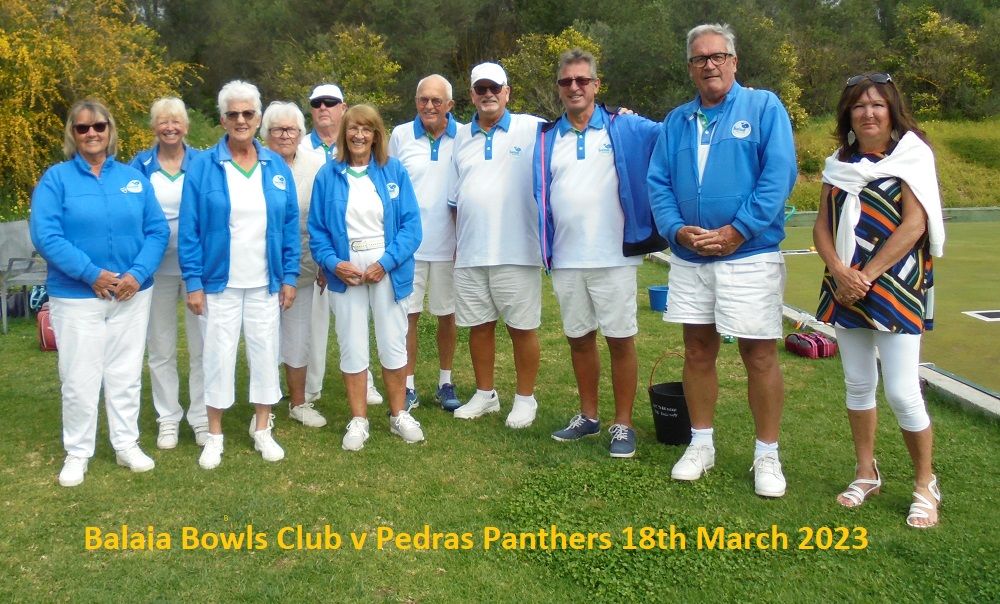 Club Captain Brian Denyer presents the Balaia Bowls Club Men's Pairs winners trophies to Geoff Upton and Henk Veenstra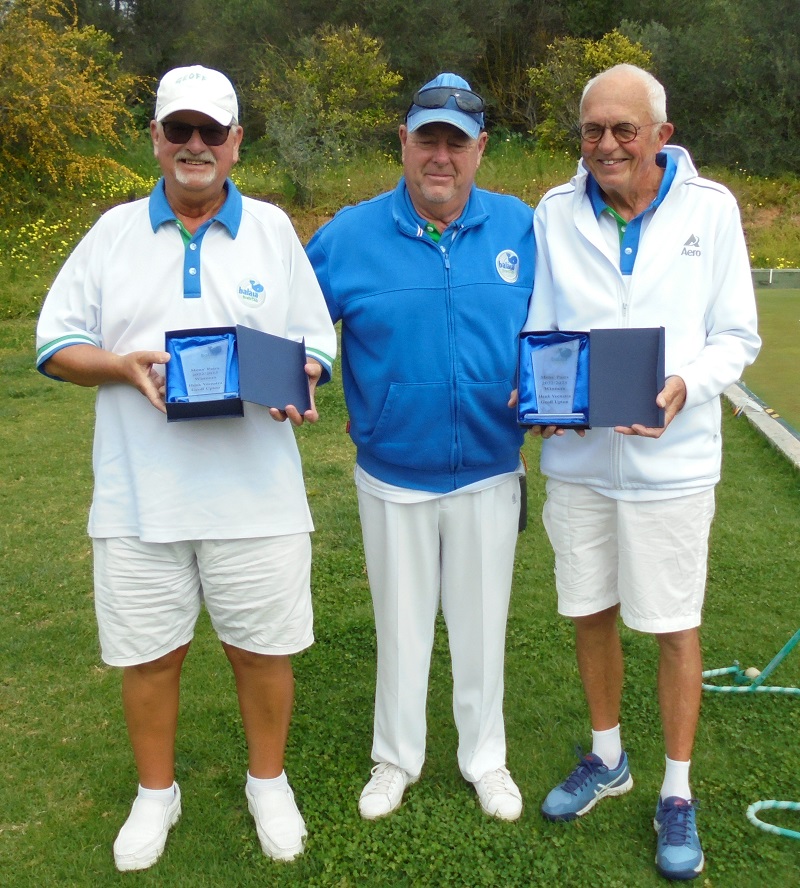 ---






Victory in the Bowls Algarve Inter-Club Open pairs!



Frances Reynolds and Jill Dunkey produced an outstanding performance to beat John London and Joe Scott of Pedras BC. On a cloudy and occasionally rainy morning at Alvor they came off 23 - 14 winners with one end to spare. A magnificent run of eight consecutive winning ends after having been 9 - 2 down after four ends paved the way. It was 19 - 9 after 12 ends, 21 - 10 after 15, a blip on end 16 brought the score to 21 -14 but an unlucky shot by the opponents on end 17 knocked the jack back to two of Balaia's and gave Frances and Jill the two shots they needed. It's our first Inter Club win in many years.
---
Memorial Day 28th February
An excellent day with 32 members and visitors bowling on a sunny morning to remember those no longer with us. Some very bad language, wrong biases and donations put €159.29 into the swear box, the spider contributed €44,50 (strange, since it was €1 to bowl) and some loose change found by Peter Moss down the back of the sofa added to a grand total of €201.41 raised on the day. This will be used to make purchases on behalf of the Olhos D´Água parish food bank.
---
Valentine's Day 14th February 2023
Members and visitors turned out in large numbers for a special rollup at the club. Red was the order of the day!
Afterwards, a member's lunch was held at the Wander Inn in Albufeira. A raffle raised €250 for the Olhos D'Água foodbank.
Peter Moss won the 'spider' prize.
Thanks to Pauline and her helpers for all the hard work in getting a successful day organised.
Pictures - click for a larger size. If anyone wants an original full size picture, have a word!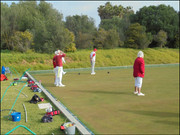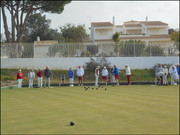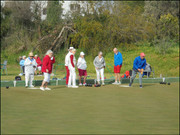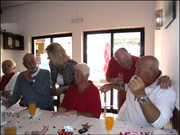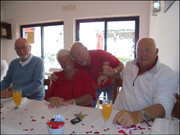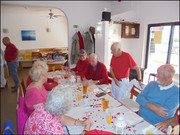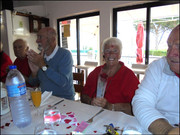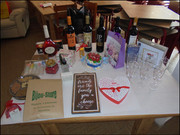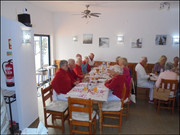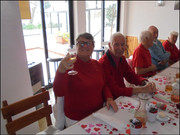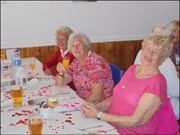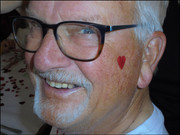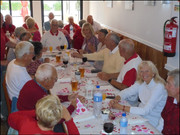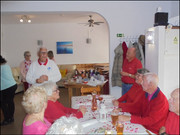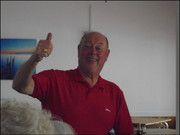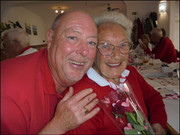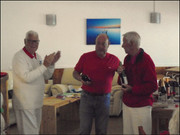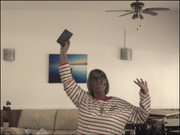 ---
The dangers of playing bowls!
Not to mention the cost! JJ Burke was playing in a roll-up on Friday 10th when this happened as the wood left his hand!


---
Donation to Albufeira Food Bank January 2023 - click or tap here for more.
---
Team Photo v Pedras Panthers 7th January 2023 - a great result!
click or tap the picture for a larger size. For more pictures from the match, please click or tap here. Click or tap a picture to view full size.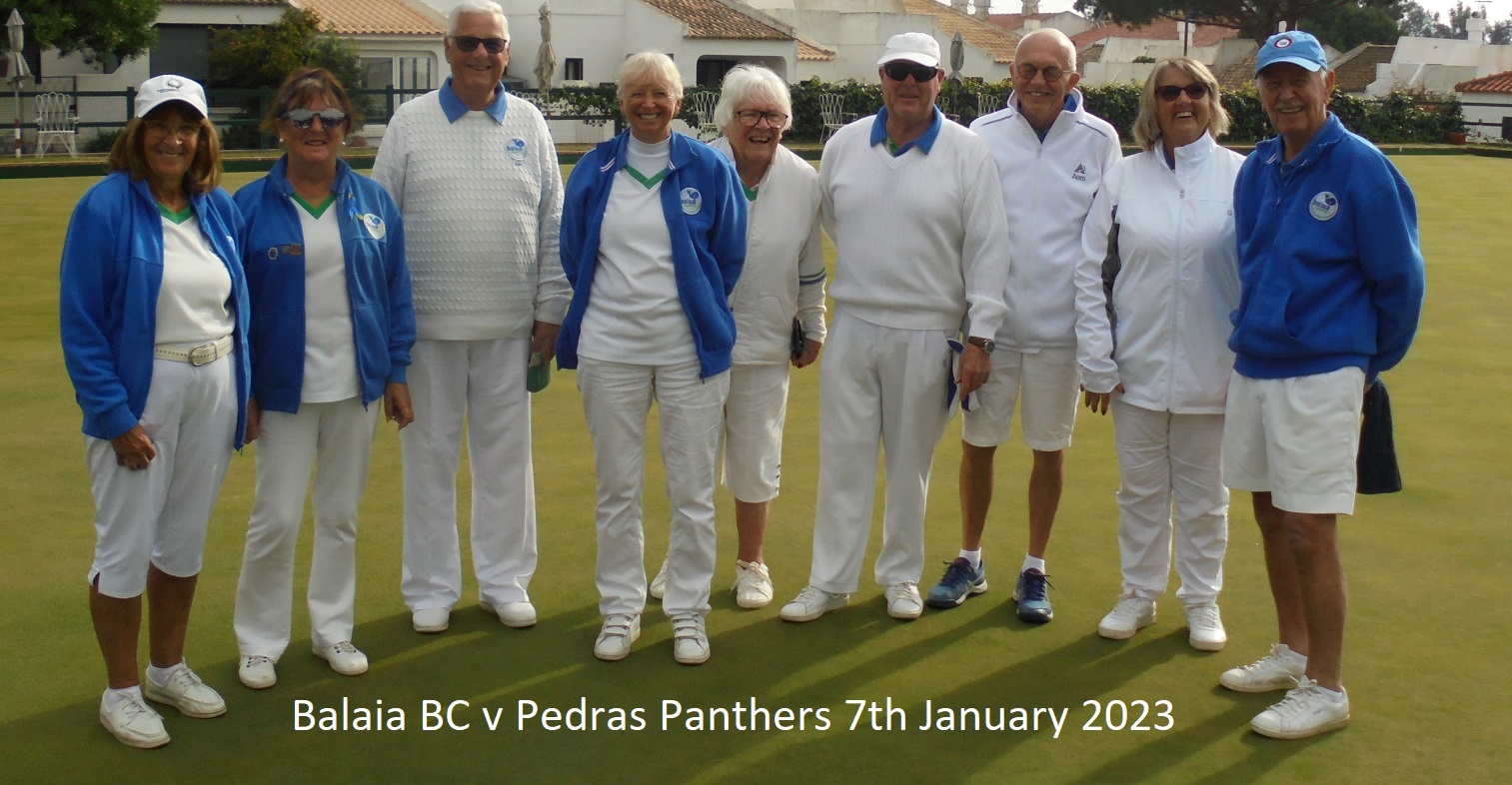 Bowls Algarve Winter League 2022 - 2023
Bowls Algarve Winter League started 19th October. Balaia fixtures and results as we play
here
.
Balaia Bowls Club Competitions 2022 - 2023
These are now under way - results etc here.

---
TOURING SIDE VISITS LATER THIS YEAR

IF YOU ARE LOOKING TO COME EITHER IN SPRING OR AUTUMN, PLEASE ENQUIRE OF OUR SECRETARY JANICE HARTLEY- secretary@balaiabowls.org
---
Christmas Rollup 23rd December 2022
Full size files are enormous! Click or tap a picture to open full size in a new window or tab.

---
Donation to Ukranian Relief

We have donated €1,010.70 to the official Portuguese fund for Ukranian war relief. This came about from various activities during the latter part of the year, including individual donations, raffles at various events and fines for wrong bias etc!
A really nice thank you was received
Dear Alan, Please accept our sincere gratitude for your donation of 1010 €. A generous contribution of yours and the Committee is a true Christmas gift for the Ukrainian families and their children. Because of you, it will be possible for the refugee families to keep the babies warm and clean, to have necessary nutrition and to safely celebrate Christmas.Your generosity gives the Ukrainians necessary support and confidence in people around.Have a joyous and blessed Christmas!

Sincerely, Oleksandra Tynkalyuk, President, Associação de Apoio à Comunidade Ucraniana em Portugal
From earlier fund raising efforts, various items were purchased for the children's home A Gaivota November 2022 - click or tap here for details

---
Balaia Bowls Club membership clarification
The annual €10 membership subscription is payable at any time from 1st April 2023 to carry you until 31st March 2024.
Members are eligible to play in Club competitions, represent the Club in League matches and enjoy our social events.
For actual play, you can choose to pay Balaia Golf Village as below :
Unlimited play including League and Club Competition matches - one person : 1 month €50, 6 months €270 or 12 months €435. There is a discount of about 35% for a joint husband / wife ticket
All such payments include home league matches and roll-ups. For those who wish to 'pay as you go' it's €10 per game, except home league matches where it is €8..
For away League matches everyone pays a fixed fee of €8 per game.

What you pay to Balaia Golf for a month, six months or a year's unlimited bowling does NOT include membership of Balaia Bowls Club.

Last year's news and events here.
For 2021 news please click here. For even older news click here