Practice roll-ups Tuesdays and Fridays. All Welcome
OUR REGULAR TUESDAY AND FRIDAY ROLL-UPS TAKE PLACE EVERY TUESDAY AND FRIDAY MORNING
Please try to arrive by 0945 as it will be first come, first served. Late arrivals have no guarantee of a game!
Members and visitors especially please note. Growing numbers mean we are often full for 'roll-ups'. Do arrive in good time.

Fee 10 Euros for visitors includes hire of bowls. Bar adjacent!
Session lasts about two hours

ROLLUP TUESDAY 30th OCTOBER
Half a dozen of us turned up in very wet weather. Most decided against it, but two brave souls carried on regardless! Click to see full size picture.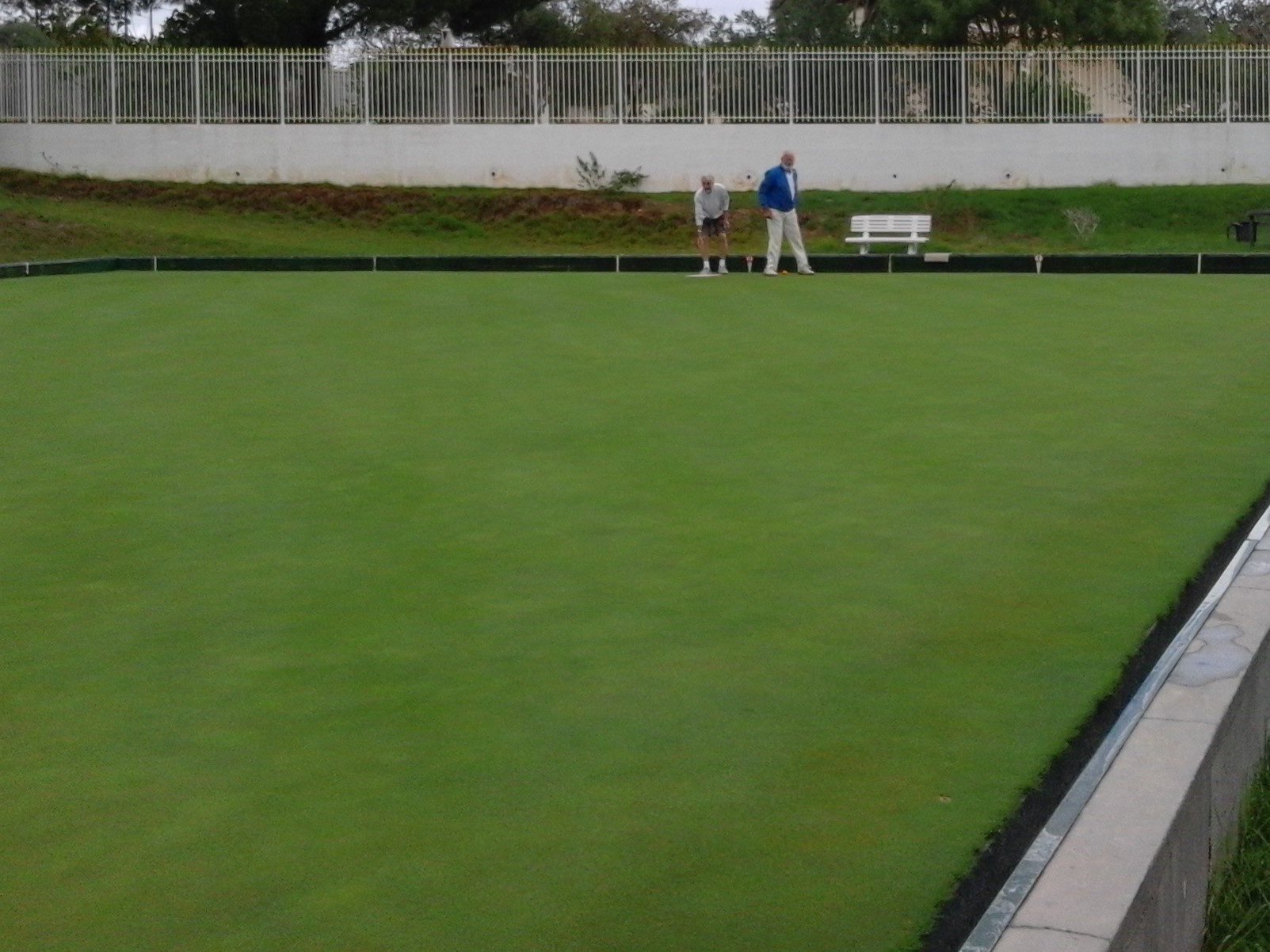 ---
TOURING TEAM PICTURES FOR AUTUMN 2018 HERE - CLICK EACH PICTURE TO SEE IT FULL SIZE.
TOURING TEAM PICTURES FOR SPRING 2018 HERE - CLICK EACH THUMBNAIL TO SEE THE LARGER SIZED PICTURE

The last few months news and events will be on this page. For photos from events in late 2016 and 2017, please click
here
.
---
TOURING TEAM VISITS SPRING AND AUTUMN 2019
There are already TWENTY-THREE touring team visits scheduled for 2019! For the fixture list please click here, will open a new window or tab. You can print this but be aware it may be amended.

---
ALGARVE BOWLS WINTER LEAGUE STARTED SATURDAY 27th OCTOBER
For fixtures and those of other competitions please start here.

As before there will be two 'sessions' either side of Christmas thus :
27th October to 8th December then resuming 12th January with the final round of games 23rd February

---
PRESENTATIONS 14th SEPTEMBER
(apologies to Janice - that picture was spoiled! We will try again later.)
| | |
| --- | --- |
| | |
| Gerald Plant and Stuart Tyler receive the Men's Pairs trophy from sponsor Tony Dean | Brian Denyer and Jill Dunkey with the Aussie drawn pairs trophy |
---
MEMBERS SUNSET CRUISE BOAT TRIP SEPTEMBER 13th



A very pleasant evening, even if the sea was a little rough at times! Some of us did get a bit wet. Click a photo to see it full size.
































The rest of the pictures,
mainly of cliffs and caves
and things are here.





---
PRESENTATION TO BOMBEIROS 25th JULY

A presentation took place to show the two 'tablets' purchased by the Bombeiros following a donation of €1,000 raised by the club.
Also purchased were two in vehicle chargers and two windscreen holders. These will be useful additions to the firemen's equipment. The second picture shows members enjoying a dnner out the following evening.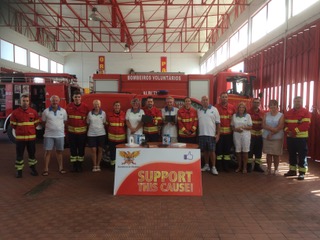 ---
ALGARVE BOWLS SUMMER LEAGUE FINAL DAY THURSDAY 5th JULY 2018


An exciting but often very tense finals day saw Balaia going into the last game of the summer season with a five point advantage over nearest rivals Pedras Panthers. Six points would given Balaia their first trophy, but it was not to be. Although Panthers dropped a set and tied another, but despite best efforts Balaia gained only two points from one set won. Thus the teams finished level on 47 points. Panthers took the title on shots difference across the season. Nevertheless our players can be proud of what they achieved. Now for the winter season! Final League table here.

There is a selection pictures from the day here - will open in a new window or tab. Click each picture to see it in a larger size. if anyone wants the massive full sized version of any of them, send the picture number (eg 001, 002) to me webmaster@balaiabowls.org and I will send it to you. They are around 9Mb in size or 18 megapixels.

---
SPAIN TOUR 2018 - GROUP PHOTO AND ONE OF FRANCES REYNOLDS WITH THE CUP!
TOURING TEAMS OCTO
BER 2018 - UPDATED LIST
HERE
.
Social Events - we are not all about bowls! Members will be enjoying these events and more.



QUIZ NIGHT Wednesday 31st January was won by Tom, Brian and Peter Moss.
GO-KARTING Saturday 10th March at Albufeira Marina Hot wheels indoor track followed by meal



MEMORIAL DAY BOWLS EVENT Wednesday 28th March - very nice sunny day!




The winners are pictured here





FUN BOWLS AND LUNCH

Sunday 1st April (Easter Sunday)
Fun day of Crown Green Bowling with John Inkster taking the spoils and Sharon runner-up. Pictured below.
Trophies sponsored by Peter and Babs Moss and the Day was rounded off with a fabulous meal at Cocheira Restaurant.




MAY

Wine tasting trip to Porto, already booked.

JUNE
Our next social event is a game of crazy golf followed by a meal. The event will take place at Scoóbys on Sunday 3rd June.
The crazy golf will start at 4pm followed by the meal around 6pm.
We will also have full use of the swimming pool and beds,
therefore if you don´t want to play golf but relax while the games are being played bring a book and relax by the pool.

---
---
A big thank you! Email received following their visit - The

West End

club have just returned from their bowls tour and they have been straight on the phone wanting to thank you for your great hospitality. They said they had a wonderful welcome at your club in particular and really enjoyed playing your team at the club. I said I would happily pass on their comments and I want to add my thanks for making my teams feel so welcome. Best regards, Julie Osborne, Holiday Heat Ltd

---
PRESENTATION TO BOMBEIROS TUESDAY 31st October 2017

Well we did it – we have raised just over €10000 this year for the Bombeiros thanks to a collection pot at the Wander Inn pushing the total this year to €10,055!!!
The formal presentation of the monies raised at the 24 hour bowls marathon took place at the club.
One picture below, more pictures
here
- will open a new window. . The cheque represents the money raised from the 24 hr bowling marathon, €8022, plus €930.80 raised through spiders, swearbox etc. We had already donated €1103 earlier this year thus bringing the total to €10055.