Balaia Bowls Club News and Events 2023
News and events of the Balaia Bowls Club during 2023
---
Donation to Albufeira Food Bank January 2023 - click or tap here for more.

---
Touring team visits Spring 2023
Please mark these dates in your diaries! In addition to Balaia BC match dates below, note that the green has been booked out all day Friday 17th March.

Balaia BC dates - obviously you will be unable to play club competition matches on these dates and times. The number of bowlers required varies from 12 to 16.

Monday 20th March 10.30am vs Cotswold Bowls Club
Wednesday 22nd March 2pm vs Simmo's Bowls Tour
Thursday 30th March 10.30am vs Sunderland BC
Saturday 15th April 10.30am vs Falcon Tourists
Thursday 20th April 1pm vs Gosport BC
Sunday 23rd April v Bognor Regis TWO matches, one morning and one afternoon;
Monday 24th April 10.30am vs Camberley BC
Monday 1st May v Spanish Touring Team. Details TBC and there may be one other match with them that week.

---
Team Photo v Pedras Panthers 7th January 2023 - a great result!
click or tap the picture for a larger size. For more pictures from the match, please click or tap here. Click or tap a picture to view full size.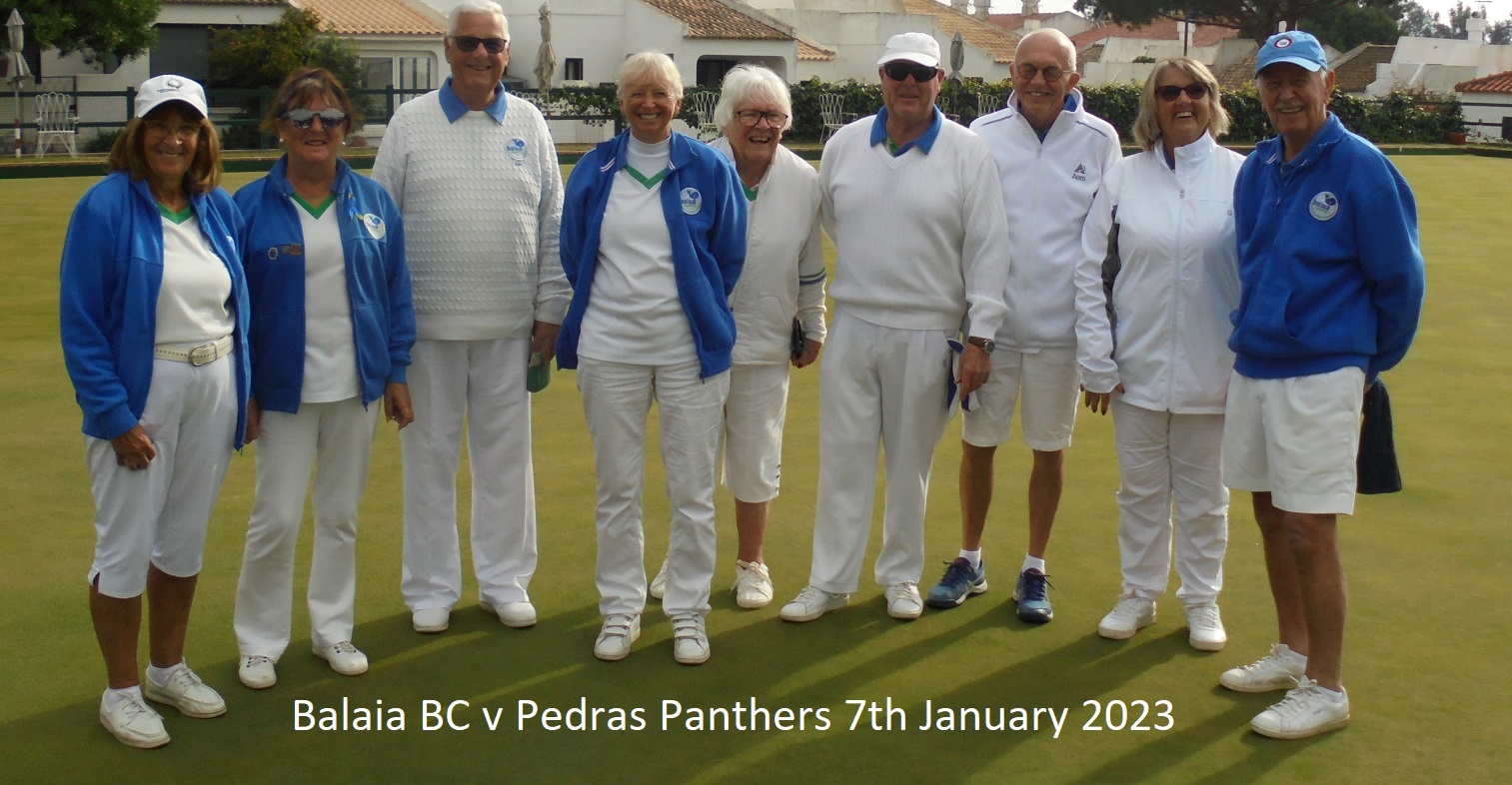 Bowls Algarve Winter League 2022 - 2023
Bowls Algarve Winter League started 19th October. Balaia fixtures and results as we play
here
.
Balaia Bowls Club Competitions 2022 - 2023
These are now under way - results etc here.

---
TOURING SIDE VISITS LATER THIS YEAR

IF YOU ARE LOOKING TO COME EITHER IN SPRING OR AUTUMN, PLEASE ENQUIRE OF OUR SECRETARY JANICE HARTLEY- secretary@balaiabowls.org
---
Christmas Rollup 23rd December 2022
Full size files are enormous! Click or tap a picture to open full size in a new window or tab.

| 1 | 2 | 3 | 4 |
| --- | --- | --- | --- |
| Column1 | Column2 | Column3 | Column4 |
---
Donation to Ukranian Relief

We have donated €1,010.70 to the official Portuguese fund for Ukranian war relief. This came about from various activities during the latter part of the year, including individual donations, raffles at various events and fines for wrong bias etc!
A really nice thank you was received
Dear Alan, Please accept our sincere gratitude for your donation of 1010 €. A generous contribution of yours and the Committee is a true Christmas gift for the Ukrainian families and their children. Because of you, it will be possible for the refugee families to keep the babies warm and clean, to have necessary nutrition and to safely celebrate Christmas.Your generosity gives the Ukrainians necessary support and confidence in people around.Have a joyous and blessed Christmas!

Sincerely, Oleksandra Tynkalyuk, President, Associação de Apoio à Comunidade Ucraniana em Portugal
From earlier fund raising efforts, various items were purchased for the children's home A Gaivota November 2022 - click or tap here for details

---
Balaia Bowls Club membership clarification
All who have paid the €5 six month fee to be a member of Balaia Bowls Club are bona-fide members of the club.
This expires on 31st March 2023. The club's financial year has been changed and will now run from 1st April to 31st March.
The annual €1 membership subscription will therefore be payable on 1st April 2023 to carry you until end March 2024.
Members are eligible to play in Club competitions, represent the Club in League matches and enjoy our social events.
For actual play, you can choose to pay Balaia Golf Village as below :
Unlimited play including League and Club Competition matches - one person : 1 month €50, 6 months €270 or 12 months €435. There is a discount of about 35% for a joint husband / wife ticket
For those who wish to 'pay as you go' it's €10 per game. All payments include home league matches and roll-ups.
For away League matches we pay a fixed fee of €8 per game.

What you pay to Balaia Golf for a month, six months or a year's unlimited bowling does NOT include membership of Balaia Bowls Club.

Last year's news and events here.
For 2021 news please click here. For even older news click here