---
It was a nice sunny day on Tuesday 15th December and several members at the roll-up were suitably dressed for Christmas!
CLICK OR TAP A PICTURE TO SEE IT FULL SIZE

---
TUESDAY AND FRIDAY 'ROLL-UPS'

THERE WILL BE A ROLL UP ON TUESDAYS 22nd and 29th DECEMBER BUT NONE ON DECEMBER 25TH and JANUARY 1ST.
PLEASE NOTE THAT FROM 5th JANUARY ROLLUPS WILL BEGIN AT 10.00am.
This decision was taken by a members vote with a clear majority in favour of a return to the earlier start.

There are restrictions on numbers as we can use only three rinks. Maximum permitted to play is eighteen (18).
We will keep track of who attends roll-ups, just in case.
We are therefore asking members AND visitors to book a spot in advance. This MUST be done by email to bookings@balaiabowls.org
THIS EMAIL ADDRESS IS ONLY TO BE USED FOR BOOKING ROLL-UPS. ALL OTHER GAMES MUST BE BOOKED VIA GOLF RECEPTION
Members will have access to the equipment shed for scoreboards, pushers, mats and woods. Shoes will NOT be available.
Changing rooms, lockers and showers remain out of bounds.
It has been agreed with our hosts Balaia Golf Village that all users accept that they use the facilities at their own risk.
You are all well aware of 'social distancing' and everything else that must now be taken into consideration
Sanitising liquids are available if you don't have your own.

FOR DECEMBER, ROLL UPS WILL BEGIN AT 11.00am finishing at around 1.15pm.
PLEASE ARRIVE NO LATER THAN 1045 SO THAT WE CAN GET ORGANISED, BEGIN ON TIME AND MAKE THE MOST OF THE TIME

All arrangements are subject to continuous review. If you need a scorecard you can print one from here.

VISITORS GREEN FEE REMAINS AT €10
VISITORS MAY PLAY AT OTHER TIMES WITHOUT A MEMBER PRESENT BUT MUST PROVIDE THEIR OWN EQUIPMENT OTHER THAN A JACK.
YOU WILL HAVE NO ACCESS TO THE EQUIPMENT STORE FOR WOODS AND MATS
RINKS ARE TO BE BOOKED VIA GOLF RECEPTION 289 570 442 OR IN PERSON AVAILABLE 1000 - 1600 DAILY
---
BOWLS ALGARVE HAS SUSPENDED LEAGUE FIXTURES UNTIL AT LEAST JANUARY
---
BUT WE ARE OPEN!

A few pictures from the Balaia v Albufeira 'Super Sixes' match Thursday 12th November.


---
CHARITY SUPPORT
Committee members met with a representative of the children's home 'A Gaivota' to confirm our support to the tune of €1600 raised at various events over the winter. Action had to be delayed over the summer.
The money will be mainly used to pay dental bills not covered by the Health Service.

---
WINTER LEAGUE 2020 - 2021 RESUMED 7th NOVEMBER

The resignation of five teams required a complete revision of the fixtures. The new fixtures can be seen here.
The Thursday 'Super Sixes' competition began on 5th November - fixtures here.

---
CLUB COMPETITIONS
The Dean's Cup is almost completed. Details here.
The Committee has decided to defer further discussion on competitions until our January meeting
There are too many unknowns at this time to allow us to plan anything.

---
CLUB CHRISTMAS DINNER SATURDAY 19th DECEMBER
Almost all sell-out! To be held at the Boliqueime Inn. Contact Pauline Denyer Social Secretary for more information. Email here.

---
2020 ANNUAL GENERAL MEETING
This was held on Friday September 4th. A new committee was elected. Details here.
However, there were no nominations for Chairman or Treasurer.
Peter Moss accepted the rôle of Chairman, Ian Maddison subsequently accepted the rôle of Treasurer and Pauline Denyer the rôle of Social Secretary.

Presentations were made to the winners of the club competitions.

---
TOURING SIDE VISITS OCTOBER 2020 AND SPRING 2021

All visiting sides due in October were cancelled.

We have currently five touring games scheduled for Spring 2021 and two for the autumn. We hope that more will be added once life returns to something like normal.

---
BALAIA BOWLS CLUB HOSTED A MEMORIAL DAY TO ABSENT FRIENDS IN AID OF 'A GAIVOTA' CHILDREN'S HOME, ALBUFEIRA
Wednesday 4th March 2020
A good turn out on a sunny day. Valverde were the winners of this triples event. Thanks to all who took part.
The event raised 420 € for the charity. Some pictures and video clips here.

---
VALENTINE'S DAY FUN BOWLS

Eight teams took part. Congratulations to winners Janice Hartley and Clarke Slemon.

---
CHRISTMAS DINNER 2019
Splendid evening at Restaurante Mato à Vista near Paderne especially when Santa Claus came with his sack! Click a picture to see it full size.
A raffle held on the night raised around €100 for the orphanage 'A Gaivota'.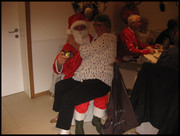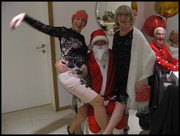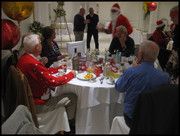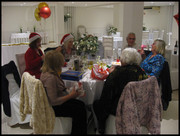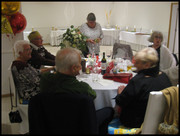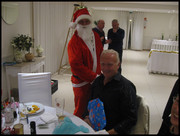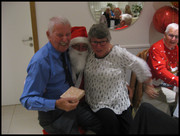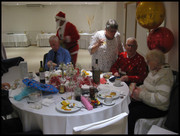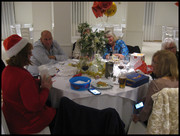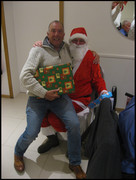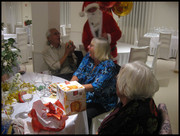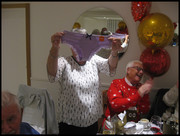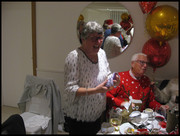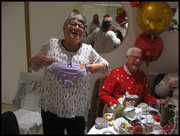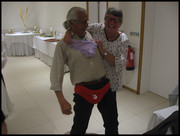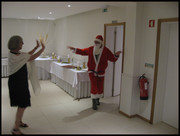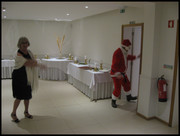 ---